Welcome to...
We are very excited to announce the expansion to our hatchery.
We have added another amazing game bird to our farm.
These sweet little birds are called Coturnix Quail.
And I have to admit... I am in love with them.
They will be a great addition to our therapy farm.
as well as a beneficial part of our homestead.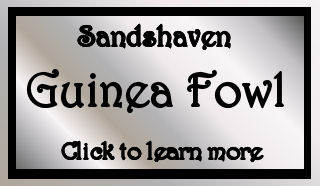 * For Sale *

Sandshaven Hatchery
Is proud to represent the
Guinea Fowl International Association
at the 2017 Mother Earth News Fair
September 15-17, 2017
Seven Springs, PA
Click image to check out the fun!




Ever wonder how we became a hatchery? click here.


Please "Like" / Follow us on Facebook



If You Wish to Contact Us
Please Message, Scott & Sharon @ sandshaven.

Have a Great Day!

* Home * About Us * Alpacas * Gallery * Hatchery * Photography * Shoppe * Links * Contact Us *

Copyright © 2002-2017 Sandshaven
All rights reserved